Should women be discharged from military immediately ?
A person needs strong arms to handle a semi-automatic. A woman may fire and lose control of a semi-automatic due to weak arms. A woman killed her instructor while training.  
https://www.youtube.com/watch?v=3yvTDptcmyA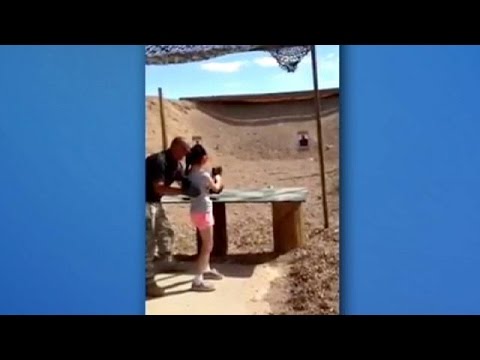 No---Just not be in direct COMBAT roles, where physical strength affects the effectiveness of the fighter.---Drivers and Pilots are ok, because they control machines that have their own power.---Not to mention traditional military roles for women. 

That women is not in uniform and probably has not gone through a long  period of military training.  If she were to fail that, she would not be assigned to use heavy weapons.  The same would be true of a male candidate.

Sorry, out of troll food for the moment

Oh please.

Certainly more men have killed other men than women have.  In training.  Probably even at that base.

This is called "selective bias".

Yeah, there are a small number of tasks that men will usually outperform women (where strength, spatial orientation or speed are involved), but since the difference is small and the vast majority of tasks don't care about the small differences, the question is obviously "no".

If you were asking "should women be discharged from the group of people who are responsible for dragging cannons up the hill", I would *STILL* say no, since small men wouldn't probably even fare as well as strong women.

Such questions only promotes feminism.

How do you think about the answers? You can sign in to vote the answer.

In Britain I have worked alongside male and female members of the Royal Navy and the Royal Air Force. They all have a great 'work ethic' and a few of the females are equivalent in strength to their male colleagues. 

But the thing is that not all members of any armed force are on the front line, lugging heavy weapons around.

And I did once see a female knock spots off all the males and the other females in one gymnastic competition, in which the females were in general doing slightly better than the males, in doing as many sit-ups in a minute as possible. The males were doing about 25 to 30, the females about 27 to 33, then this one female got going and did 61.  They were all fit young members of the British armed forces.

In WW2 my father and his colleagues were nearly killed by 'friendly fire' from an ill-disciplined American machine gunner (male, of course) in North Africa.

No. I know plenty of women in the armed forces and law enforcement who can out gun you in a heart beat with a stray thought. There've been quite a few instructors killed by men in training. 

Do you realize there are tons of jobs in the military that have noting whatsoever to do with firing semi-automatic weapons? Are you further aware that ever person in the military is trained in the jobs they hold, and that they would not be permitted to keep a job they could not perform?

I think you and sexist idiot scumbags like Bill should get discharged from society in general. 

I'm all for removing women from the military and all male roles in society. 

Lets abolish the military and make men cry
Still have questions? Get your answers by asking now.